Home
Talk

13
12,320pages on
this wiki
Hero For Headline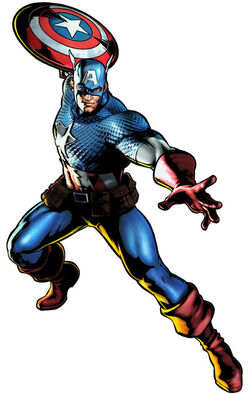 Captain America is a superhero from Marvel comics who fought against the Red Skull during WWII as part of a secret super-soldier experiment - he was revived in the modern age by the Avengers and became their leader as a champion of the ideals of truth, justice and the American way.
---
To Vote for next month's Hero For Headline, go to Heroes:HFH
About This Wiki
The Heroes Wiki is an off-shot of the "Villains Wiki" and is designed to be a comprehensive database of heroes from all media - ranging from cartoon shows of old to epic dramas, movies and video-games. Heroes are an ancient traditional spanning across almost all cultures and capturing the imaginations of young and old - this wiki seeks to pay homage to those childhood fantasies as well as characters who continue to inspire us well into our adult life.
Poll of Justice
Which Hero type do you think is the best?
Rules and Policies
Before contributing, please read our rules and abide by them.
NO FAN-FICTION - We do not allow fan-fiction on this wiki. Original content is to be kept on your user page. Only meme-status "fiction" is allowed. If something is not found on KnowYourMeme.com, then it will be deleted on sight.
Plagiarism - Any article added to this wiki must be of your own making. Articles found to be taken from other sites without permission will be deleted without warning.
New pages
Recent activity