Buhawi(foldabots)
Talk

0
10,825pages on
this wiki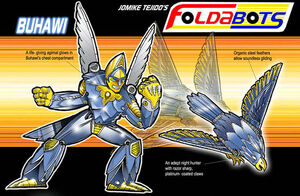 Buhawi is the main protagonist in foldabotsfranchise and a main hero in comics and he is the leader of the good robots every time he protects the city and they create him to destroy villains wikia lu-sho villains wikia and he could lead any time anywhere 
hero
buhawipx
it is i buhawi

Full name

buhawi

alias

buhawi the leader

origin

Foldabots,dark ages,foldabots chronicles

occupation

leader of foldabots defender of city

powers/skills

ultimate agimat force,bakunawa spiritdragon

hobby

creating more comrades

goals

defend the city and earth against from enemies

type of hero

robots,seeker of vengeance,leader,comic book heroes,defender members,heroic leader
in comics they created him so that there is no lead to them and he help his comrade to kill the enemies and the combiner help him to kill the evil ruler and the combiner fight the evil guys and they kill the villain and he helped his friend to avenge the ones who killed his friend and he also appear in the battle of the prehistoric animal combiner when his combiner was killed by the evil combiner he help and killed evil combiner and  he ws not appear in the battle in the grass of the insects and he is also appear in the city when the evil -ruler create his minion to avenge the deceased of his own minion and brainwash his friends or comrades helping the city and they become evil  and they destroy the city  he lead into the city with his friends and he is also killed by the giant evil combiner and he also bring to his own camp when they defeated the one who killed him and they cure repair him in the camp and they defeated another combiner and the construction workers help and restore their city with the help of good foldabots and their reinforcements and they do not know that there was a dump truck behind them and he told to his master and creating his minions and destroy his reinforcements and their commander but they where killed by his soldiers and peace is restore and still repairing him and the children using their powers to revive him and he is back in action and the giant monster is going to make the minions and destroy them and they still fighting and buhawi used his power to wipe out the minions and they were smashed by buhawi's hand with dragon fist and he told them to stop following the evil and then they were learned about him they transform into good their life giving.In the comics He told the evil turned into good they are going to stop the evil-ruler or dictator they combine into Sporticons into Sporticus then he fight the villain and he uses his power to stop him and the villain his eye was injured.
he is the protagonist in comic series.
he is the leader of the good side.
he is always defend the enemies.